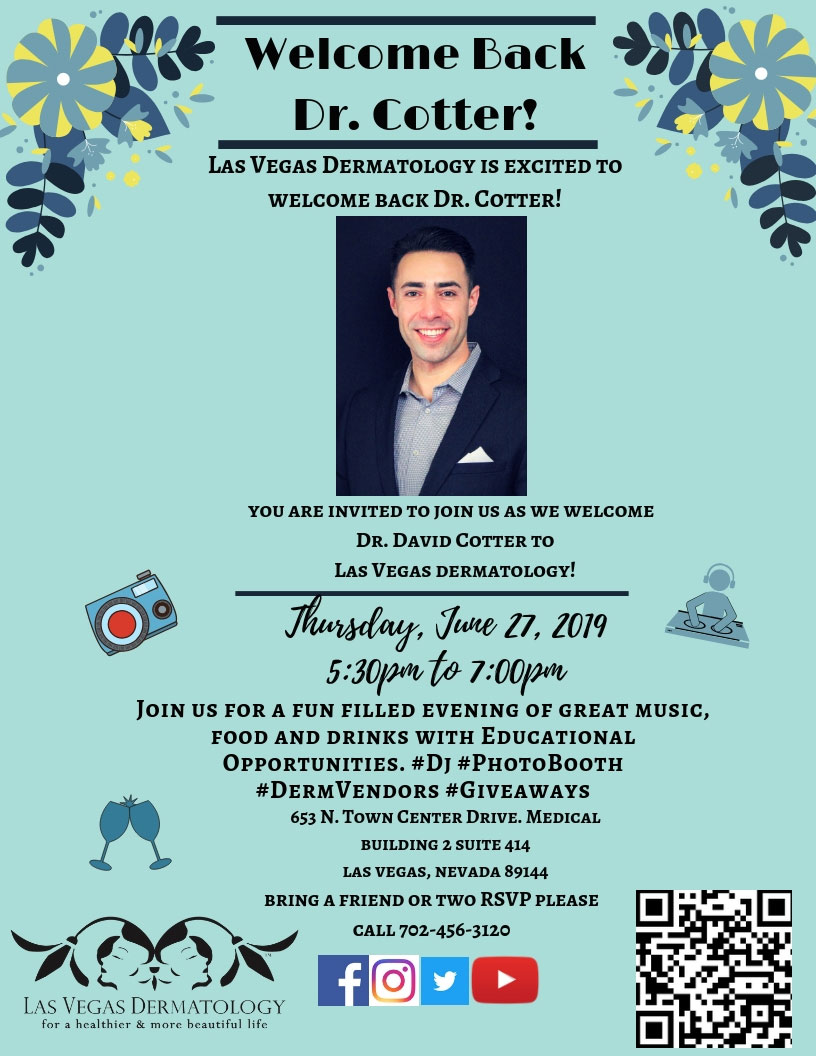 It is with great pride that Las Vegas Dermatology announces the addition of dermatologist David Cotter M.D., Ph.D., to our growing team of skin care professionals.  Dr. Cotter's many years of clinical and scientific training have equipped him with expertise in medical, pediatric, and cosmetic dermatology as well as dermatologic surgery.
As a dermatologist, Dr. Cotter has trained with world leaders across the dermatology spectrum. Having published many peer-reviewed articles and with a Ph.D., his unique background as a physician scientist allows Dr. Cotter to offer his patients the most advanced skin care treatments.
Las Vegas Dermatology opened its doors for business in 2007 on the Campus of Summerlin Hospital.  We are a full-service dermatology practice specializing in all aspects of dermatology including: Medical, Surgical, Pediatric, Cosmetic and Laser Dermatology- everything from laser hair removal to skin cancer therapies, PRP for hair growth and Patch Testing for cutaneous allergies.  We accept most insurance plans and are now accepting new patients.
After graduating from UNLV with highest honors, Dr. Cotter went on to earn both an M.D. and a Ph.D. in molecular cell biology and physiology at Washington University School of Medicine. He was named "best intern" during his preliminary internal medicine year at what is now the UNLV School of Medicine. He completed his dermatology residency at UC San Diego, where he also served as chief resident in dermatology.
Dr. David Cotter is happy to join forces with H.L. Greenberg, M.D. to grow the Las Vegas Dermatology practice, "For a healthier and more beautiful life".
Las Vegas Dermatology could not be more excited to have this thought leader in the field of dermatology as part of our exceptional team.  If you would like to schedule a dermatology appointment with Dr. David Cotter; Starting July 1, 2019 please call (702) 456-3120.
653 N. Town Center Drive # 414
Las Vegas, NV 89144
(702) 456-3120