The Beauty Blog
From the Aesthetician's Desk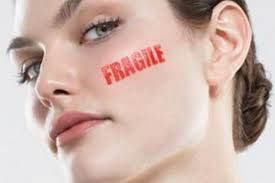 "My skin is sensitive" is the most common phrase an aesthetician will ever hear.  Chances are almost everyone, myself included, have used this phrase.  The reality being, your skin is not as sensitive as you may think.
The growing number of people who self-identify as having, "sensitive skin" can blame a wide array of contributing factors.  The sensitive skin list is growing; for starters: overuse of products, change of season, using the wrong products for your skin type, not changing your products or routine as you and your skin ages, and a skin care market saturated with, "sensitive" skin products have combined to make sensitive skin a hot topic.  All of these contribute to the belief that our skin is sensitive, and that is just not always the case.
First things first, all of us are going to experience skin sensitivity at some point in our lives.  When that occurs, simplify your routine, and slowly introduce products back one at a time.  This will tell you if it's a particular product that is causing the reaction or another factor.  Always keep in mind seasonal changes in skin, as well as skin changes simply due to age.
One telltale sign of truly sensitive skin is if any particular product you apply causes your skin to sting or get red.  This includes: cleansers, moisturizers, serums, and make-up.  Another factor leading to sensitive skin is allergy.  Your dermatologist can perform Patch Testing, a process in which you are tested against 70 common allergens including: dyes, fragrances and preservatives to find out which allergen is leading to your skin sensitivity.
In conclusion, do you really have sensitive skin?  Maybe, but chances are you do not, start with a simple yet effective skincare routine, and build from there.  At Las Vegas Dermatology we can help you choose products for your unique skin type.  Your skin may be tougher than you think.