Beauty Blog
From the Aesthetician's Desk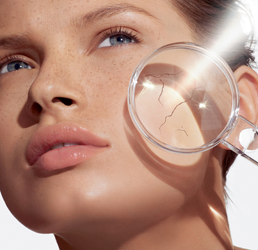 Summer months bring sunshine, carefree longer days and overall feelings of happiness, but for your skin it's a different story.  High temperatures well into the 100s' in the Las Vegas desert heat can dry out skin and cause excess oil production, add that with over exposure from the sun and your skin may be sent into emergency mode.  Show your skin some love and affection with my summer skincare tips.
-Protect, protect, protect with sunscreen every day and not just the face, show your body some love too.  Be sure to use a broad spectrum SPF of 30+ and re-apply for every 2 hours of sun exposure.
-Keep your skin hydrated with an oil free moisturizer, hydrogel, or lightweight serum.  When skin becomes dry the protective barrier can no longer function properly, and your skin will start to produce more oil creating a greasy feeling.
-Take along a pack of towelettes to de-grease your face throughout the day, along with a travel size face mist to refresh the skin.
-Meet your new best friend, Vitamin C.  Vitamin C is an anti-oxidant that places an invisible shield over your skin to protect against environmental damage, collagen breakdown, and sun spots.
-EXFOLIATE!  Dry, dead cells build up on the skin's surface creating a dull complexion.  Regular exfoliation 2x a week will keep your skin looking and feeling fresh, as well as allowing for better product absorption.
-Beat the summer heat with cooling masks.  Gel masks are a great way to reduce redness, inflammation, and cool down the skin.  Try keeping your masks in the fridge for an added cooling effect.
Be good to your skin this summer and your skin will be good to you.  Now is a great time to update your skincare regimen to beat the heat.  Schedule a consultation by phoning Las Vegas Dermatology at 702.456.3120